Hello everyone! The days are getting busier and busier and it's getting harder to get these blogs out in time. I ought to start working on them days in advance, honestly. We're also working on a bunch of stuff with different groups that have us under NDA, so sometimes we just can't share what's going on! Sorry about that.
This is just a quick post to let you know we are alive, and that we'll be at PAX East 2019 later this month! You can come to PREGAMER (PAX East Edition), visit us on the show floor, attend our panel, or do all three if you're a true fan. Info below…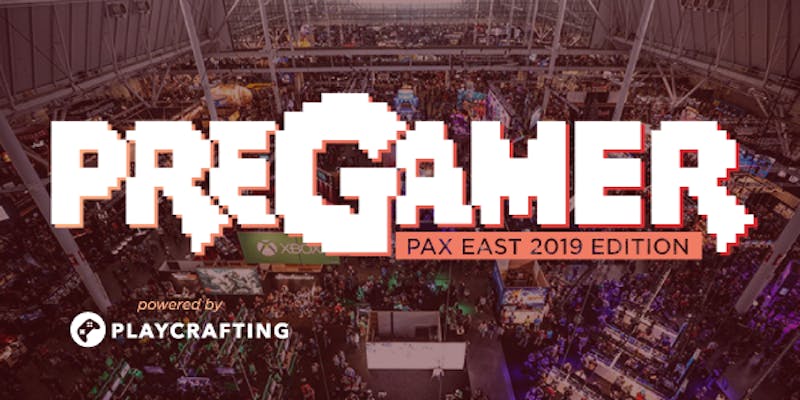 PREGAMER PAX East Edition
When: Wednesday, 3/27 from 6pm – 11pm
Where: Laugh Boston, 425 Summer Street, Boston, MA 02210
This event is free, but you need to register here!
Kick off PAX East in style with the 3rd annual PREGAMER party!
Game developers will be showing off their latest games one-on-one to a crowd of 1,000 people. For developers, this is a great opportunity to show off their games (finished or unfinished) and get direct feedback from players. For everyone else, it's a unique opportunity to try out the biggest collection of games outside the show floor itself. Each game gets its own section as players meet the developers and try out their games. Throw finger food into the mix and let's start "pregaming" for PAX East!
All ages welcome. ID required.
The Booth
When: All Weekend
Where: Booth Number #19135
The kind folks over at Playcrafting have generously invited us to showcase NYC's most awesome games! We'll be representing Where Shadows Slumber and helping our fellow New Yorkers demo their stuff. Come play the full game (until we kick you off) or interview us! You can schedule an interview by emailing me here: contact@GameRevenant.com
The Panel
When: Saturday, 3/30 from 1:30pm – 2:30pm
Where: The Arachnid Theatre, but I have no idea where that is
We're doing a panel on "How Much Do Premium Games Really Make" which is combination of our personal stories of game development + research into others who have made their financials public. We could use your support in the crowd! Don't throw things at us, please. To aid in our quest to rid the world of devastation, we invited some awesome NYC friends to join us. Come to our panel to see me (Frank DiCola), Jack Kelly, Dan Butchko of Playcrafting, Kati Nawrocki of ComputerLunch, and Adriano Valle of OrcPunk talk all about the state of premium mobile games!
= = = = = = = = = = = = = = = = = = = = = = = = = = = = = = = = = = = =
Where Shadows Slumber is now available for purchase on the App Store, Google Play, and the Amazon App Store!
Find out more about our game at WhereShadowsSlumber.com, ask us on Twitter (@GameRevenant), Facebook, itch.io, and feel free to email us directly at contact@GameRevenant.com.
Frank DiCola is the founder of Game Revenant and the artist for Where Shadows Slumber.